Ticket to Ride is a digital version of the celebrated board game with a railway theme that was first published in 2008. The Next Level Game developed this turn-based strategy for both single-player and multiplayer.
It is a game in which you will create your railroad but be prepared for many opponents that will try to deflect your building strategy. Ticket to Ride can play from one to five players. It includes maps of Europe and the U.S. as well as eight additional maps and some game variations in two small expansions.
Gameplay
This game has the rules corresponding to those in the offline board game version. You will get two types of cards, destination cards with two city destinations and a colored train to represent a cargo.
You will get three destination cards and will have to choose at least two of them. After you get all you need to start a game, you will have three options when your turn comes: to draw a new destination card, train cards, or claim a colored route.
Routes
To claim a route, a player will have to pay with same-colored cards that serve as wild cards. After you've claimed a specific route, other players will not be able to claim it. Each route you claim will bring you points listed on destination card, and logically, longer routes bring more points than shorter ones.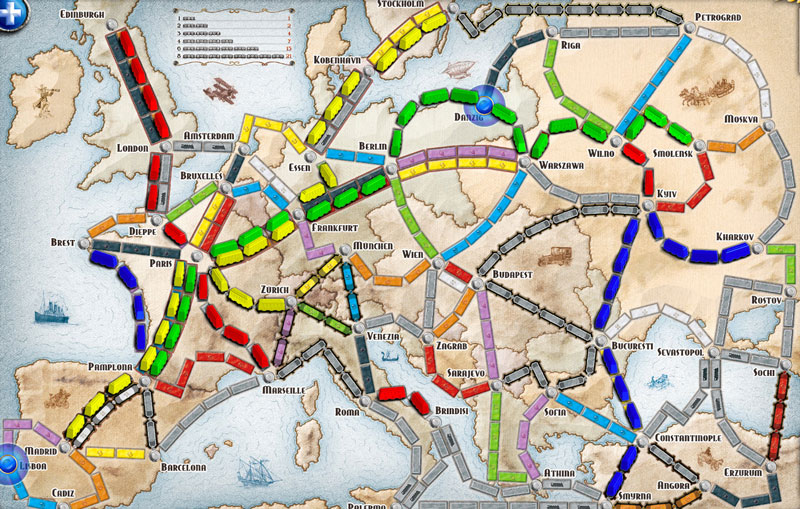 Some of the destination cities are linked with two parallel routes and allow two players to claim it. But this is only the case if the game involves four or five players. When two or three persons are playing, one player can claim both of the routes.
Game Finish
When the game comes to an end, you will get the points that are listed on the destination card. If you decide to pick a new destination card, you will have to draw another three cards and select any of those. Yet, you will need to choose at least one of the destinations.
The game will end when at least one player runs out of their trains. There are bonuses for finished destinations and a 10-point bonus for the longest connected set of routes, but you also might lose points if the route is incomplete.
Popular Maps
Maps are the very core of Ticket to Ride. The first two maps in digital version variety of maps were a Europe map and a 1910 USA map. With extensions came a Switzerland map, Legendary Asia map, India, Africa, Netherland, etc.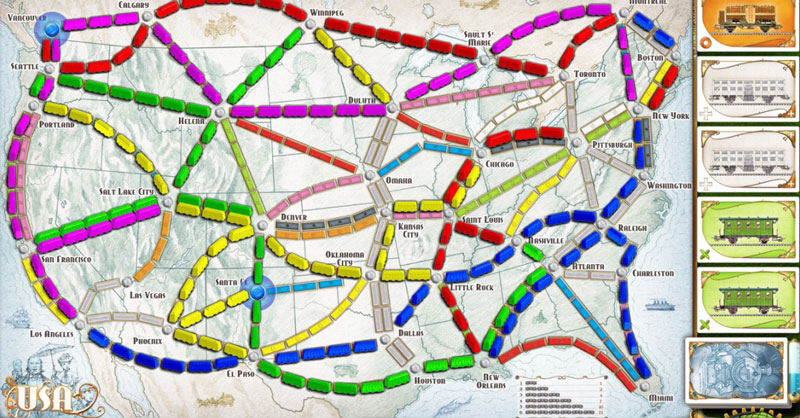 Europe and 1910 USA maps were both released in 2008 for Xbox Live Arcade. The Europe map included two new types of routes — Locomotive and Tunnel routes. The 1910 USA map added 35 new destination tickets, a large map, and a Globetrotter bonus card. Both of these maps were adapted for Mac and PC in 2012.
The same year in May, a Switzerland map came out as well as a Legendary Asia Map as a part of the Map Collection 1 extension. After these two, Ticket to Ride got another five Map Collections:
Map Collection 2: India and Switzerland, Map Collection 3: Heart of Africa, Map Collection 4: Netherland, Map Collection 5: United Kingdom & Pennsylvania, and Map Collection 6: France and the Old West.
Start Playing
Ticket to Ride is adapted for Android, iPhone, and iPad, Linux, Steam PC, and Mac. Besides that, it supports up to five people playing on Xbox Live or four on the same console.
To play Ticket to Ride on Steam and use the chat in Online Lobby, you have to be at least 13 years old. Here you have the option to play solo opposing up to 4 AI players or taking turns against up to 4 live opponents. It includes Europe, 1910 USA, Switzerland, and Legendary Asia maps with additional maps for the United Kingdom, Germany, India, Nordic Countries, and Pennsylvania, which are available as DLCs.
The game can also be played on iPad, and there, it uses a large screen and Multi-Touch interface to support a polished and detailed digital board game. The app will spontaneously enforce proper rules, keep track of their Destination Tickets, train cards, remaining trains, and calculate players' scores.
Ticket to Ride is one exciting game which will make you use your strategic thinking while trying to reach your destination before the opponents. It will introduce you to the world in a different way, taking you on a journey through chosen maps. And whatever map you want, you will not regret it!